Fashion With a Purpose
---
INTENTIONAL.STYLISH.
FASHION WITH A PURPOSE.
---
At Alika, our ultimate goal is to support women so they feel confident and beautiful in all their stages of life. A few years ago, our founder was introduced to the designer Megan Grote, founder of With Grace B. Bold. Inspired by her mother's breast cancer diagnosis, Megan created With Grace B. Bold – a clothing brand that truly combines fashion, function, and purpose.  Add to that, the  product range is not only for women who have been diagnosed with breast cancer, but it also extends to their supporters.
In support of women who have been diagnosed with cancer and are undergoing treatment as well as their supporters, we asked Megan for permission to repost an article from the With Grace B. Bold blog.  She graciously obliged. After reading this article, we hope you will agree that With Grace B. Bold is aligned with our goals here at Alika:
SO MUCH MORE THAN POST-MASTECTOMY APPAREL.
The With Grace B. Bold brand is so much more than post-mastectomy apparel. ❣️
When I set out to design my very first garment for WGBB, I had a lightbulb moment one day (coming home from work at my day job) that in addition to providing clothing that supports women with breast cancer, I should also keep inclusivity in mind and ensure that my products were meant for WOMEN – no matter their circumstance.
That's when the idea for The EILEEN was born – a sister piece to The ANN ELIZABETH that women could not only wear for recovery purposes, but also just as a fashion piece that supports our larger mission. It was a huge success, and in many ways has carried our brand for the past few years.
With The JULIE head wraps, I knew that I wanted to incorporate this same mindset, and set out to design a head wrap that any woman would want to wear and feel confident in. Whether simply as a hair accessory or as a recovery piece during chemotherapy.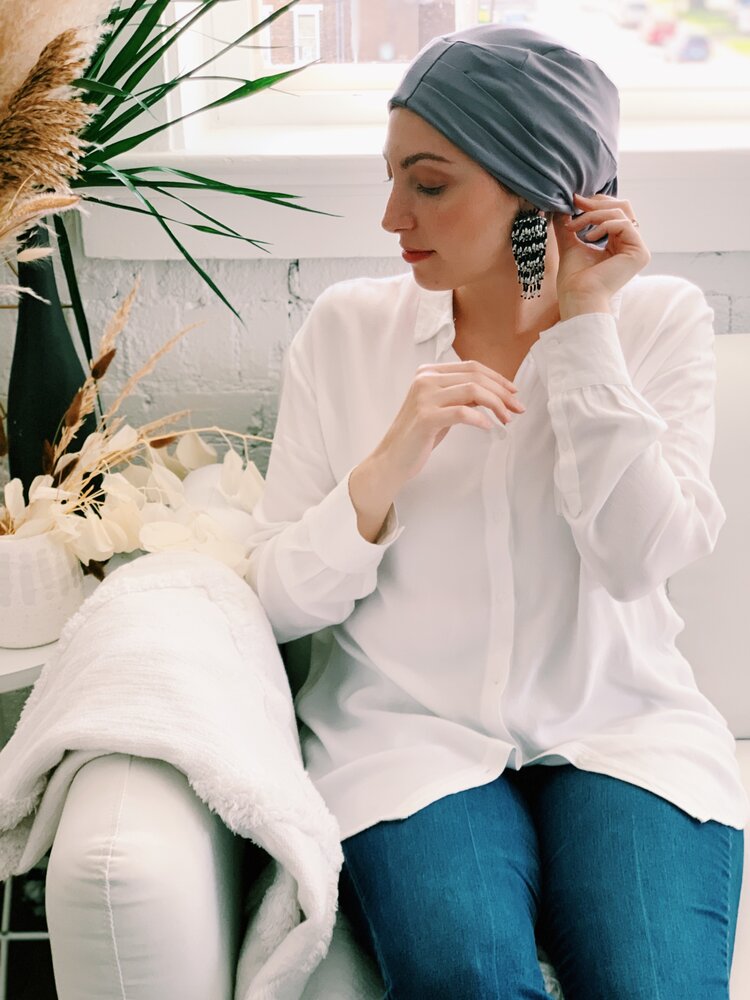 With Grace B. Bold encompasses a philanthropic, stylish, intentional, and luxurious collection of purposeful fashion. For EVERY woman, no matter what you may be facing. We're here for you. ✨
– Megan Grote
---
About Megan Grote and With Grace B. Bold
Megan Grote, is the founder of With Grace B. Bold. With Grace B. Bold was largely inspired by her mom, who was diagnosed with Stage III breast cancer at the age of 42.
As a fashion designer with multiple design degrees, she was able to approach the challenges many women face when undergoing treatment for breast cancer with both fashion and function in mind. Megan believes this approach is a truly valuable way to meet the needs of underserved markets.